Another shoot down and we come away with a big portion of rich, creamy comic goodness. This shoot led us to the studios of Fanboy Radio!!

While we were there we were able to get an interview with the show's host Scott Hinze. They also had Scott McCloud and his family live in studio!

The McCloud family are on a yearlong nationwide tour to promote Scott's new book "Making Comics." The whole family is visiting every state (and a few other countries) to spread the word about how great comics are.
Scott McCloud is a comic guru and many regard him to be THE authority on how & why comics work. He gave us a great interview and we had fun meeting the whole family.
If you get the chance pick up a copy of "Making Comics."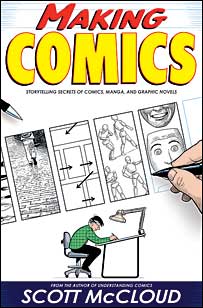 Special thanks to the FBR crew and the McCloud family.